On Saturday, October 28, the bustling Place de la Monnaie in Brussels transformed into a vibrant hub of innovation and entrepreneurship. The occasion? The Womenpreneur Market, a gathering of women entrepreneurs hailing from the Brussels region. From early morning to evening, this event shone a spotlight on women-owned businesses in the heart of the Belgian capital.
More than just a fair, initiatives like the Womenpreneur Market help to create valuable connections between women entrepreneurs and consumers eager to explore unique, locally sourced, quality products. It goes beyond buying – it allows people to connect with the stories, passions, and aspirations of talented businesswomen with innovative ideas.

Promoting local purchasing and contributing to the economic resilience of the region, the Womenpreneur Market is more important than ever in recent times.

"Especially after everything we've been through – COVID, inflation – the women entrepreneurs of Brussels need our support," Sana Afouaiz, the Founder and CEO of Womenpreneur, emphasises.

"The best way to support a woman is to buy from a woman!"
LUXURY SHOULD GO HAND IN HAND WITH RESPONSIBILITY
The world can move a little too fast. Machines can churn out products faster than ever, but nobody stops to consider the costs of mass production to humans and the environment – from the destruction of habitats to low wages and dangerous working conditions in mass-production factories to chemical compromises made to product formulas to lower bottom lines that are not the best for humans.

Julie's answer to these problems? Slow perfumery.
After experiencing challenging circumstances during the COVID-19 pandemic, confined and separated from her loved ones, Julie found inspiration in the importance of feeling safe and comfortable at home. Her business ALALEA was conceived in Switzerland, drawing from her memories of her family home in Congo, to produce timeless, luxury scents in an eco-friendly and sustainable way.
After training at Grasse, the heartland of perfumery, Julie dedicated herself to the sustainable slow perfumery project, while also paying homage to her father and the rich cultural heritage of Zaire, her ancestral roots.
"Nowadays it is crucial to take care of yourself, and it can be hard to do in a world where almost everything is machine-made", Julie noted. "A machine may be able to make bigger products, but the human can make products with love and care".
Julie is careful to keep the seasons in mind when crafting her scented products, which include candles, perfumes, and diffusers. Julie creates unique blends of scents that you'll find nowhere else, and part of it is influenced by her commitment to sustainability.
"Scents like orange blossom are available all year round. But jasmine has a specific flowering season. Therefore I only make jasmine-scented products during this time. This way, it's better for you and better for the planet as well", she explained.
DON'T LET WASTE RAIN ON YOUR PARADE!
The amount of mass-produced industrial waste we produce as a society is staggering. For Melanie, the main offender? Umbrellas.

"Umbrellas are so cheap" states Melanie. "The worse quality they are, the more likely they are to break in bad weather. But because they are so cheap, we just throw them away without a second thought and buy another one."

Our relationship with trash inspired Melanie to start Marypup. Melanie recovers the fabric of umbrellas – she has several donation boxes for broken umbrellas around Brussels – and upcycles them into unique and stylish rain capes.

"The umbrella is just one of thousands of objects with "technical obsolescence" that we consume on a regular basis. This is indeed a very accessible product due to its low price but remains very toxic for our environment when incinerated".
Melanie's upcycling doesn't end with umbrellas – she also upcycles tents left behind at festivals into rainproof gear for cycling. 
She emphasises that everything today is too cheap, which means that items that were once prohibitively expensive – such as camping tents – can be relegated to the waste heap without a second thought because of mass production and the lowering of prices.
Melanie's work incorporates craftsmanship, utility and sustainability all into one, all while raising awareness of overconsumption in our societies.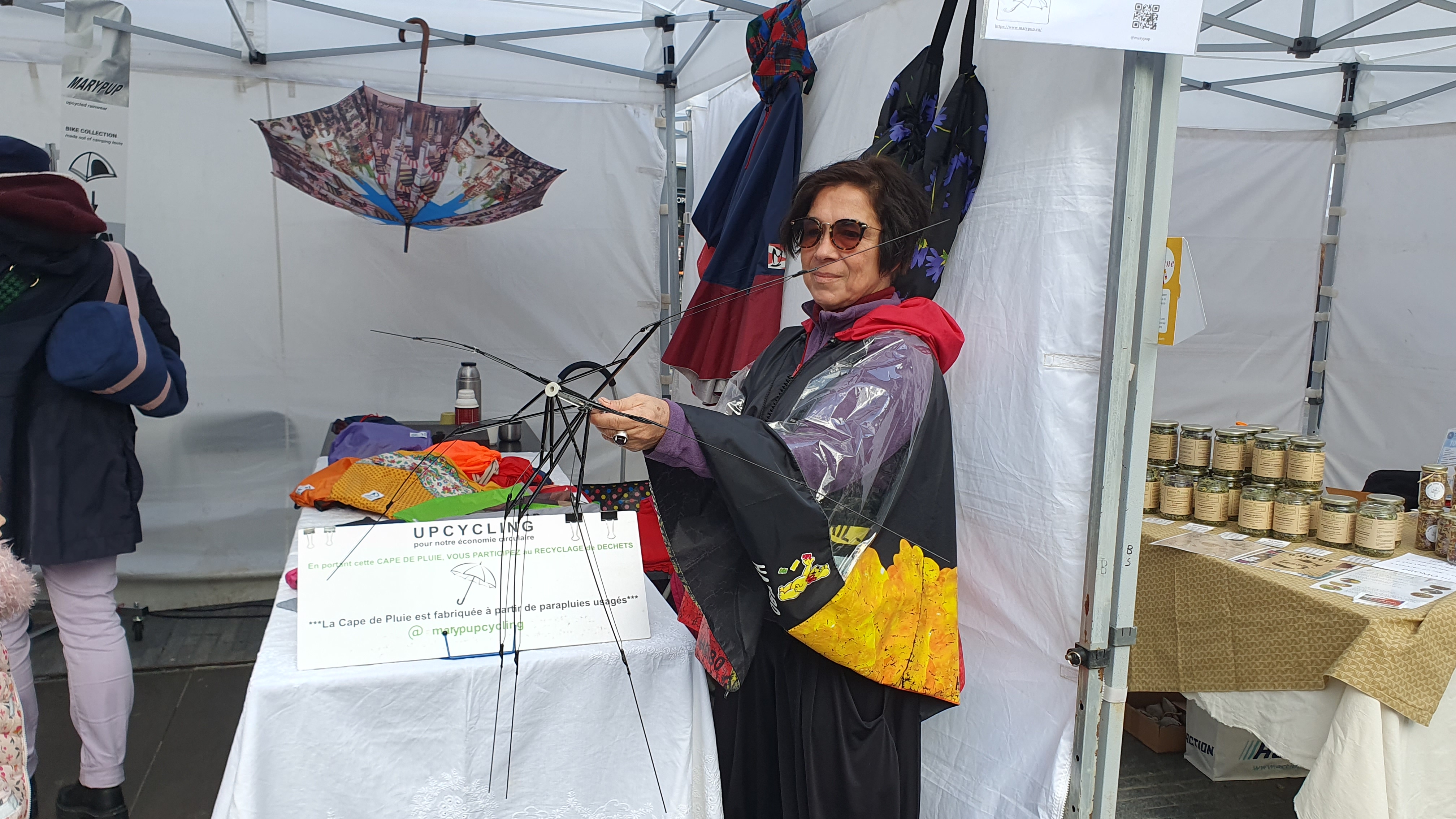 The one problem Melanie hasn't found a solution for?
"The metal part of the umbrella! If anyone has any creative ideas to keep this from the landfill, let me know."
SAY GOODBYE TO BAD HAIR DAYS
"It's easy to take care of your hair". That's the meaning of Yoroshe, a Kirundi phrase that Aude chose to name her haircare platform in honour of her Burundi and Portuguese heritage.
It's no secret that natural hair needs a lot of care. When Aude grew up in Néchin in a village where they were the first immigrant family to settle, the lack of representation of afro hair around her led her to fall into straightening and colouring her hair.

But as she grew older and became more aware of the natural beauty of her hair, Aude decided to go for a big chop and learn about hair and natural cosmetology so that they can give tailored advice to people who have gone through a similar life experience. In 2021, Aude took the plunge and left her job as an emergency nurse to start Yoroshe. 
"Hair care is not only a cosmetic issue, but a medical one. People can suffer from hair loss, dandruff and all sorts of other problems," states Aude. "So Yoroshe offers hair diagnosis, both online and in person in Uccle".
Aude will then recommend the best regime of products from Yoroshe, all of them made in Belgium using natural ingredients such as okra. 
"We had to put all of our products through laboratory testing here in Belgium as we used non-traditional ingredients such as okra. The results were that the products were great for everyone – adults and kids". Yoroshe also offers workshops on face and body care. The key takeaway from Aude? "Curly hair deserves love too!"
Womenpreneur Initiative
Womenpreneur Initiative, a Brussels-based organisation, was founded in 2016, and since its establishment has reached thousands of women and convened more than 40 global initiatives across Belgium and MENA region, to drive visibility, social impact, and resources for women in the ecosystem and beyond.
Womenpreneur Initiative works to support, connect and inspire women entrepreneurs, offering them various opportunities via digital coaching programmes, events, mentoring and many other projects.

Since its creation, the association has supported more than 19,000 women, across 40 projects and 23 countries.

It works with the City of Brussels to pursue inclusive public policy to ensure that everyone has a place in Brussels society. It has also made it its mission to support local economic dynamism by paying particular attention to the city's small businesses.